EDI – have we been going about it the wrong way?
The topic of EDI (equality, diversity and inclusion) has rightly been at the forefront of everyone's minds in recent years, particularly in the area of health research. For example, there is a wealth of evidence showing that ethnic minorities are poorly included in clinical trials which can have a detrimental impact on health outcomes for minority groups. 
However we recently came across an article which made us ask ourselves 'Are we going about it the wrong way?' 
In this week's newsletter Aya Stoyanova, Associate within the Health team at Incite explores the BDJ (belonging, dignity and justice) approach of Aida Mariam Davis, Founder and CEO of Decolonize Design, and how it applies to our work in health research.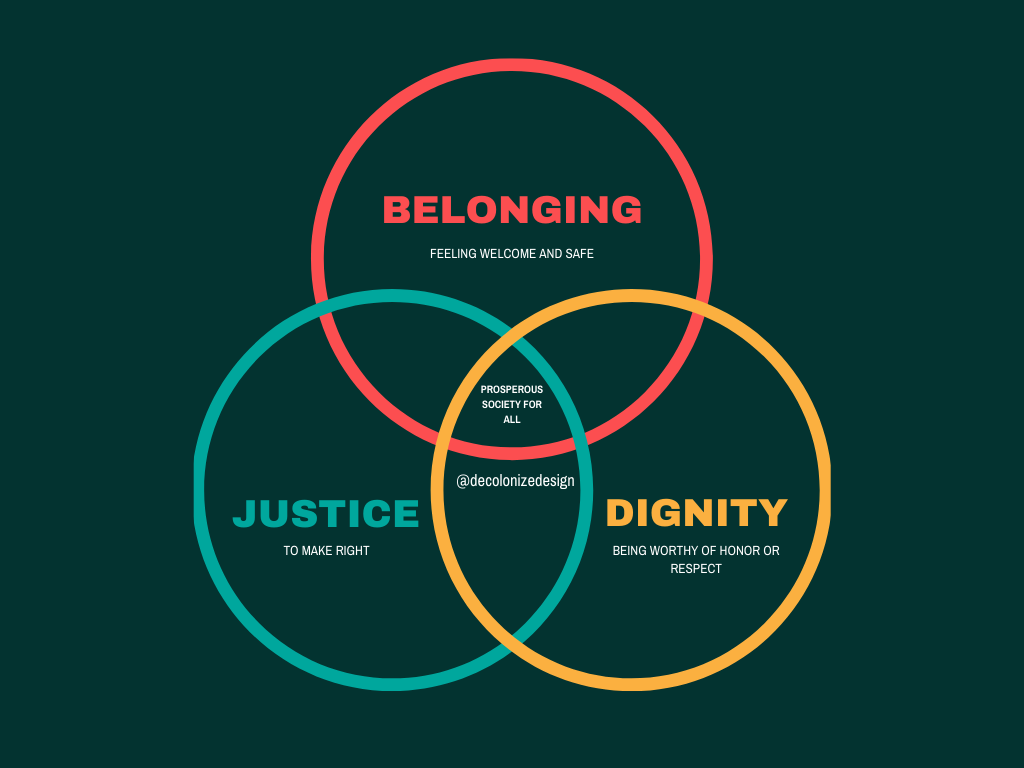 Perhaps we need to rethink our approach to inclusivity?  
In her article for World Economic Forum Aida Mariam Davis argues that existing EDI initiatives only expose discriminatory attitudes, but do nothing to mitigate their effects on those who suffer from them. EDI programmes are still rooted in white dominant culture, and EDI policies can feel like a 'tick box' exercise rather than a driver for real change. 
Aida goes on to propose that instead of focussing on EDI (which by nature creates a sense of 'othering'), our efforts should focus on really listening to the voices of marginalised people and creating a sense of belonging, dignity and justice.  
Belonging

is the indescribable feeling of being welcome 

 

Dignity

is one of the most universal concepts to describe the sacred nature of each individual's personhood 

 

Justice

is the repairing and restoring of individuals 

 
So how can researchers drive the belonging, dignity and justice agenda to inform better decision making for all?   
In healthcare particularly, we have to consider the differing needs of many types of people. Belonging, dignity and justice is vitally important with more vulnerable respondents, and needs to be a focus in how we design and approach our research.  
1/ Create a sense of belonging through improved onboarding strategies  
An article published by our sister STRAT7 agency, Crowd DNA, shines a light on the pressing need to ensure we are hearing from the right people. Screening, sampling and data weighting procedures need to be carefully assessed through inclusivity lens.    
Beyond speaking to the right people, appropriate set up is crucial to ensure everyone feels welcome. This means accounting and planning for the needs of vulnerable respondents (eg minority groups, patients with terminal illness, visually or physically impaired individuals, neuro-diverse individuals) ahead of the research.   
Onboarding calls are a great opportunity to introduce respondents to the research, build initial rapport, discuss set up and logistics, and ultimately ensure they feel comfortable and prepared to take part.   
2/ Prioritise the dignity of respondents   
As researchers, we need to have a deep contextual understanding in order to frame questions in a sensitive and considered way (eg are there cultural / societal taboos or issues at play?). To get to the heart of the market and context dynamics, researchers need to harness relationships with local partners and relevant topic area experts such as eg patient advocacy groups to gain a thorough understanding of the challenges that should be considered as part of the research design.   
To ensure emotional and psychological safety, the moderator needs to recognise and acknowledge that respondents have the right to share as much or as little as they choose. We need to be mindful not to challenge / push respondents beyond what they feel comfortable sharing. There is no right or wrong answer, and 'prefer not to say' is always an appropriate response.   
Another way to protect the dignity of vulnerable respondents, is to allow for breaks if the conversation gets too emotionally or physically demanding (eg patients with terminal illness may experience fatigue and struggle to manage a 60 minute in depth discussion).  
To create a safe space it is important to offer vulnerable respondents the opportunity to have a loved one by their side during the research for moral and psychological support. If respondents prefer to participate in the research alone, the moderator / recruiter should be able to reach out to their next of kin if the conversation takes an unexpected turn (eg individuals find conversation emotionally challenging, or a medical emergency occurs).   
Following the interview, the moderator should allow sufficient time for a 'cool down' to check in on how the respondent is feeling, how they found the experience and to discuss any concerns or questions.   
If further support is needed, which we as researchers are unable to offer, respondents must be referred to the relevant resources (eg Samaritans, other relevant charities).  
3/ Drive justice by ensuring diverse points of view are captured and accounted for in implications and recommendations  
Listening to the voices of minority groups in a dignified way is only one part of the journey. As researchers, we often try to synthesise the findings into a single narrative that applies to some but not all minority groups. However, in order to achieve true representation and justice, these voices need to be carried through into our final reporting and our recommendations. Ultimately, this approach is essential in helping to close the gap and reduce the detrimental health outcomes among minority groups due to a lack of representation.  
And it's not just in healthcare that we need to be considering the needs of different people, if we want to be truly more inclusive then we need to be thinking about our approaches and management of respondents carefully.  
Good enough is not enough and we all have a role to play.   
---
If you're interested in discussing this more with us, please reach out to us.