Progression on and off the pitch
A rapidly changing game
Regardless of the score for the England Women's friendly game against Germany, it's a victory for the Lionesses. As England Women sold out Wembley for the first time in the 90,000-capacity stadium. That is the record for a women's game in England. And at last we are seeing progression on and off the pitch.
Women are playing professional sport in bigger spaces, with a better atmosphere and higher audience attendance. Their victories inspire growth in sport participation and the more we see this aired on our TV channels and marketed across our social streams, the quicker those numbers increase. And it's not just in football, the England netball team's victory at last year's Commonwealth Games in Australia led to a huge upsurge in those playing the sport.
There is now much more funding for women in sport which has seen an increase in clubs investing in research to trial ticket prices, find out the best way to increase attendance and optimise the consumer experience. Everything needed to match the explosive growth of the women's game.
And it is our voices that need to remain prominent in this quest to increase these brand experiences, not only in sport but in human experience.
"Women make up 51 per cent of the population, why would we not reach out and engage them in one of the most entertaining sectors on earth?"
Anna Kessel, Women's Sport Editor, The Telegraph (Source)
Creating a lasting impact
We believe there are five key factors that have caused this shift which are needed to sustain engagement:
1 / The tone of the coverage – this has changed to become much more positive about the standard of the women's game alongside less direct comparisons to the men's game.
2 / Access to the coverage – the BBC played all of England's women's 2019 world cup matches and all knockout games on their flagship channel this year. Human behaviour is often based around default habits and simply by having this ease of access to the coverage more people are engaging.
3 / Female pundits and public sports figures – seeing women as experts in sport who become our role models and we can identify with. "Why would you bother, when you do not see yourself represented?"
4 / Online campaigns – aimed at driving women's participation in sport, such as This Girl Can and Change the Game, to increase the share of voice.
5 / Improving the player and spectator experience – with more respect around the pitch to ensure people feel comfortable. To read more click here to view our work with The FA on their Respect campaign; Changing behaviours on the field.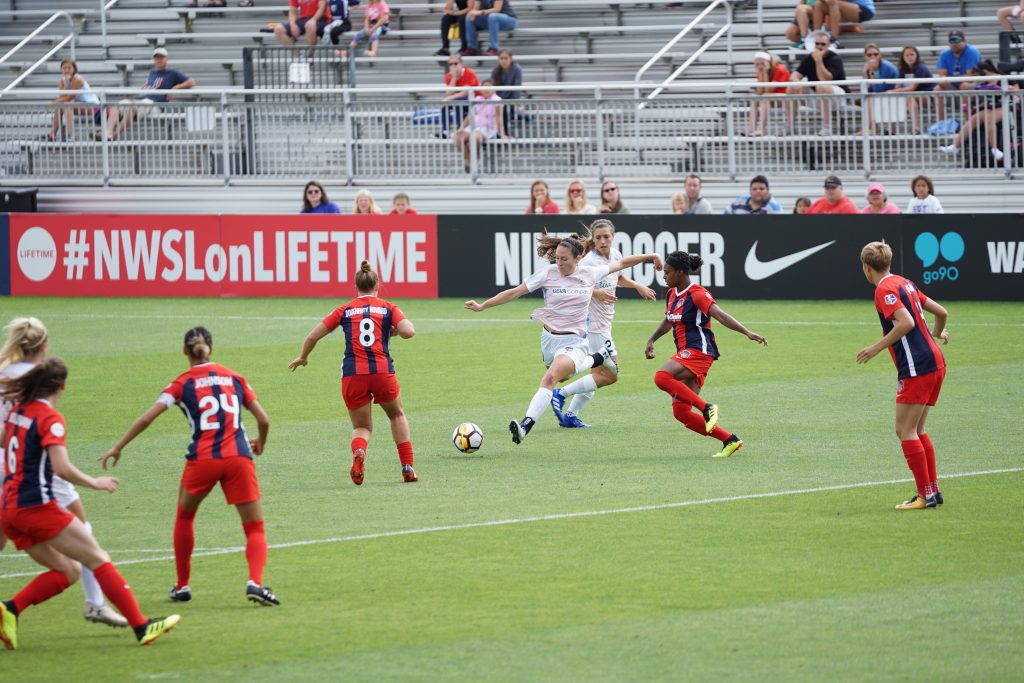 We wanted to tell you a bit about how this has impacted us personally…
Sophie Bradley: my personal experience
When I started playing football as a child each year group at my club had multiple boys' teams, but I was the first girl to play for the club. From then on, I found myself trying to prove my credibility as a player and fan in a world where I was an outsider. Watching women playing the game on TV at that point was a rarity. The men's game was much more available and hence I and many other women engaged with that.
I re-engaged with women's football after the 2012 Olympics and then even more so during the 2015 world cup. 2015 marked the first time the BBC showed all these matches on their channels. Progress was definitely being made but the discussion at this point still felt somewhat negative in tone with a lot of comparison to the men's game.
Cut to 2019 and the viewing figures surpassed 1 billion people worldwide for the first time in the women's game and I am reliably informed, by my 10-year-old brother, that my childhood football team (now his football team) have equal number of girls' and boys' teams.
Emma Wilson: my personal experience
I watched my first women's sports match this year, aged thirty(!). It was the Norway vs Australia women's world cup game in Nice and it was the first time I actually enjoyed a football match. Why? Because I could relate to every one of the girls on the pitch. It suddenly felt like football had become accessible to me and something that I was able to play without being apologetic.
After that it prompted me to fix one of my life regrets; having never joined a sports team. Having been involved in sport at school where it was encouraged, I had spent the years after feeling like I wasn't good enough, wouldn't know what I would be talented in playing and had now missed the boat.
A friend of mine who works in community sport said that he hears the same story at every conference he attends about women in sport; 'we never think we're good enough'. Many of us lack the confidence to give something new a go because of the fear of failing; the same story we hear regularly in the workplace.
So, after months of online searching for clubs and reading blogs about women who had started a new sport, I have now joined a hockey club and two games in have won Women of the Match!