What's in store in Singapore?
There has been much hype about how ecommerce spells doom for brick and mortar commerce. Well, Toys 'R' Us did shut down, and British household names like Marks and Spencer and House of Fraser are scaling back, but what's happening in Asia?
Incite Singapore collaborated with Knight Frank, a real estate consultancy, to understand retailers' points of view on how things will play out in an evolving Singaporean retail ecosystem. Here's what we found:
85% of retailers believe that a physical store is 'very' or 'extremely important' as a channel for engaging customers. And in Asia today, bricks and mortar are still in rude health.
"90+% of [our] sales still come from offline. Even as we look at trends in China, online sales account for [only] 30% of total retail sales."
"People actually stopped buying via eCommerce when our physical stores came up. People travel to our stores to experience our products and meet our people."
In an evolving retail ecosystem, bricks and clicks will play distinct and complementary roles. Online delivers convenience, enabling people to buy from anywhere, anytime, anyone, while physical outlets build a deeper connection between brands and customers: increasingly critical in today's cluttered, omnichannel environment.
Which trends will characterize successful physical retail strategies going forward?
1 / 'Total' brand experiences
As online takes over the transactional aspects of shopping, physical spaces will be the true stage to bring the brand to life.
As technology and changing business models reduce the need for ancillary spaces such as point-of-sale stations and backrooms, retailers will have greater room to play in delivering experiences which aid discovery, tactility, and greater product understanding. Retailers anticipate innovatively designed spaces: think cookery class in a supermarket or a workout station in a sports apparel store.
As retailers push the boundaries of in-store experience, there needs to be a mindset shift towards 'borderless stores' that can flex to brand needs, and fluid enough to go mall wide.  For landlords, this means evolving the tenant relationship to one of genuine brand partnership.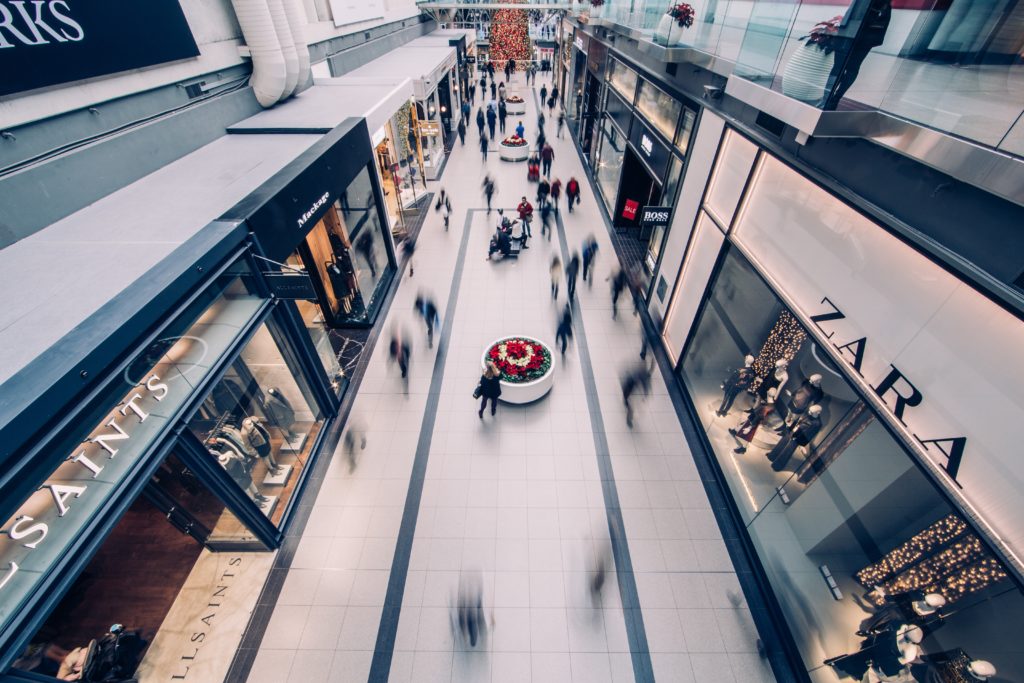 2 / 'Personnel'-isation
The power of human touch was, is and will remain the irreplaceable asset of brick and mortar.
Despite the shift towards online DIY shopping experience, the importance of customer service hasn't declined. According to the Knight Frank survey, there has been a 20% jump in expectations of 'good customer service' between 2017 and 2018.
"We have always seen customers coming back to a particular store because of a particular 'auntie' (staff) who will remember and remind you of your preferences."
It's this personal connection that keeps people coming back to the brand.
Ironically, retail solutions tend to focus on using technology to drive efficiency, less so to improve the human touch. And even as technology itself is increasingly humanized, people will still push back against anything that is 'less than human'.
3 / Deep data
As the retail ecosystem gets more complex, whoever leverages more intelligent, human-centric insights will win.
Retailers certainly recognize the value of data-driven decision-making. Landlords already have a lot of data on footfall, spend and demographic. But in today's complex world, this is not enough: data, while useful, needs to work harder to empower business success.
"Often it's the interpretation of this data – getting to the 'so what?' that's missing"
There is a push for data which is more human-centric and draws linkages between how consumers behave and business goals.
"We need to focus on how consumers behave today, and the thought processes they have during the customer journey."
So, what's in store?
It's not all gloom and doom for traditional retail. As the ecosystem evolves, the opportunity for retailers lies in adapting physical spaces to deliver 'total' brand experiences, building a connection through customer service, all while leveraging human-centric insights, to build meaningful connections with their customers.
At a broader level, planners and retailers see the opportunity to transform retail to 'more than just shops'. Retail spaces have the potential to become part of the community and reverse the trend which Mary Portas, a retail guru, described in 2011 as the sacrifice of 'communities for convenience'.
Indeed, malls and retail spaces have great potential for placemaking initiatives and, with the right mix of retail tenants, lifestyle activities and public spaces, they can be transformed into thriving 'sticky' community spaces. Apple might be on to this trend when they recently coined the term 'Town Squares' for their stores, a cross between a shop and a community space.
"In Singapore, we love shopping. Our malls will always remain relevant."